Rare fireball blazes over England
Comments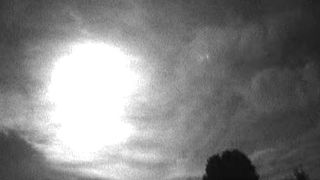 A rare fireball was captured on camera blazing through the sky over southern England this weekend, sparking hopes that some space matter may have made it to Earth.
Footage, captured by the UK Meteor Observation Network (UKMON) in the village of Wilcot shortly before midnight on November 24, shows the fireball illuminate the night sky for several seconds as it plummets to the ground.
Separate images were caught in Hampshire and over the English Channel, while there were dozens of sightings of the fireball in England, Wales and France, according to the American Meteor Society.
In its five-year history, UKMON has recorded 61 fireballs, 15 of them this year.
But the one captured on Friday was more rare.
UKMON's Richard Kacerek told Euronews the object had been classified as a 'bolide', a heavyweight class of fireball, of which the group generally only sees around one per year.
The bolide fireball is the second largest the group has ever recorded, and Kacerek said UKMON is "calculating the orbital elements right now to determine if anything survived and fell to the Earth."
"We are hopeful," he added.