Fireball lights up skies over Japan
Comments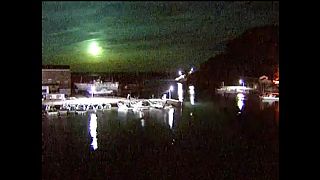 Weather cameras and mobile phones captured the moment when a fireball lit up the night skies across Japan.
Witnesses report seeing a soundless bright light falling, like a shooting star, illuminating the sky for a few seconds with a greenish glow.
A bright fireball over Japan was video recorded today around 12h30min UT. We also received 2 reports for this event: https://t.co/OtCzFwVvqI If you observed it, please report it: https://t.co/fHURpeFy43pic.twitter.com/daeiKuVXIX

—

IMO

Meteor Org. (@IMOmeteors) November 21, 2017
An Associate Professor at the National Astronomical Observatory of Japan, Hitoshi Yamaoka, says he thinks it was a fragment of an asteroid, several centimetres in diameter, that burnt up in the Earth's atmosphere.
What is a fireball?
Ordinary meteors are pieces of debris, about the size of a grain of sand, that come from asteroids and comets which have burnt up on entering the atmosphere. Exceptionally large and bright meteors are known as fireballs.
Debris from space falls to earth relatively frequently, though not often over urban areas.