Thousands join anti-government protests in Romania
Comments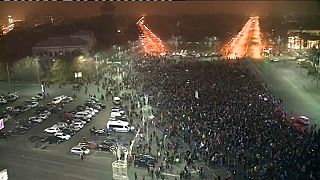 More than 20,000 people have joined anti-government protests in Bucharest in an effort to stop the ruling Social Democrat Party from making changes to Romania's justice system.
The protesters fear the judicial changes will place the system under political control undermining Romania's anti-corruption efforts.
Shouting 'Justice, not corruption' and 'We don't want to be a nation of thieves', the demonstrators marched to the Romanian Parliament.
Romanian prosecutors have investigated hundreds of public officials, including former prime ministers, in an anti-corruption drive over the past decade.
The proposed judicial overhaul has also been criticised by the EuropeanCommission, foreign diplomats and thousands of magistrates.