Young refugee boy trampled to death on boat heading for Greece
Comments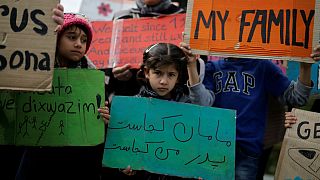 A ten year-old boy from Afghanistan has been found dead in a boat packed with refugees and migrants heading for Greece.
It's thought he was trampled by other passengers who were trying to move from their boat to a Frontex boat.
But the mayor of Lesbos, Spiros Galinos, said it's not the first time this has happened:  "This has happened before, a child being trampled down inside a boat," he said.
"You should know that in these boats that have a capacity of 10 people, there are 30, 40 or more and when a small child is on board this happens, it has happened twice before.  It's one more SOS to Europe, that in some cases hides, closes its own eyes. And here a small child died."
The boy was trying to reach Greece with his parents and two little sisters when a Bulgarian vessel located the refugee boat.
There were 66 other migrants on board the ship who were taken to a UNHCR facility at Mitilini.