Explosion identified near where Argentine submarine went missing
Comments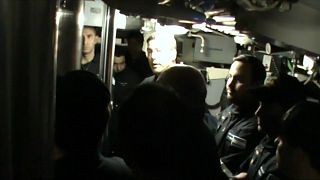 The Argentine navy says an abnormal sound detected near where Argentine submarine disappeared last week with 44 crew on board was "consistent with an explosion."
A navy spokesman said the blast in the morning of November 15th was "abnormal, singular, short, violent" and "non-nuclear."
A huge sea and air hunt is being conducted for the ARA San Juan, with more than a dozen countries including Russia and the US sending assistance.
But this is little confort for relatives.
"We were hoping that the latest information would bring a little bit of light, that the latest part would give us a little bit of light, knowing that there is so little time (left). That there's nothing is terrible, we feel devastated, we feel impotent, we're feeling angry."
After seven days missing it's feared the vessels oxygen supplies are fast running out.
WHOI research vessel #RVAtlantis has joined the search for #ARASanJuan using sophisticated tools to survey the seafloor and communicate under water. #Los44UNOLS</a> <a href="https://twitter.com/NSF?ref_src=twsrc%5Etfw">NSFUSNavyResearch</a> <a href="https://t.co/RD8J7TXqry">https://t.co/RD8J7TXqry</a> <a href="https://t.co/6dH6IPZtNC">pic.twitter.com/6dH6IPZtNC</a></p>— WHOI (WHOI) November 23, 2017