Ecuador warns Assange over Catalonia comments
Comments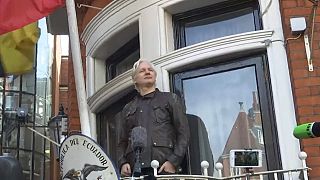 Wikileaks founder Julian Assange is under fire once again – this time from the government of Ecuador.
Assange has been holed up at its London embassy since 2012, after Swedish prosecutors filed rape charges against him.
The country's foreign ministry has asked Assange to stop making statements that could affect Ecuador's diplomatic relations. The demand came after Spain complained about contacts between the Australian activist and Catalan secessionists. Assange has been vocal in his support for Catalonia's independence and has taken to social media to criticise and goad Spanish authorities. In September he offered a reward for information on the use of Spanish security forces during the region's independence referendum.
Ecuador's president is scheduled to visit Madrid next month and Quito is keen to stress its support for Spain's territorial integrity.
This is the second warning for Assange – in November the embassy cut off his internet after Wikileaks published emails from Hillary Clinton's U.S. presidential campaign.
Ecuador says it will continue to grant Assange asylum and protect him from any attempt to extradict him to the United States.