Former US Olympics doctor admits abusing gymnasts
Comments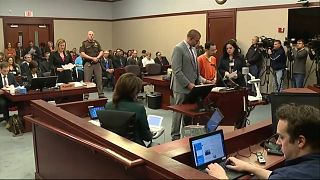 A former US Olympics team doctor has pleaded guilty to molesting seven girls whilst he worked at Michigan State University in Lansing.
Dr. Larry Nassar faces at least 25 years in prison after molesting the girls – all but one of whom were gymnasts – mostly under the guise of treatment at his home and a university campus clinic.
The girls have testified that Nassar molested them with his hands, sometimes when a parent was present in the room, while they sought help for gymnastics injuries.
More than 125 women and girls have also accused him of abusing them and have filed lawsuits. They'll give statements to a court in Michigan when he's sentenced in January.
Olympic gold medallists Aly Raisman, McKayla Maroney and Gabby Douglas are among the women who've accused him.
More than 125 women have filed lawsuits against Larry Nassar. Gabby Douglas, Aly Raisman and McKayla Maroney were among the gymnasts he victimized. https://t.co/kkxObj6N7t

— Emma Gray (@emmaladyrose) November 22, 2017
The plea deal in Ingham County calls for a minimum prison sentence of 25 years, but a judge could set the minimum sentence as high as 40 years.
In Michigan, inmates are eligible for parole after serving a minimum sentence.
Separately, Nassar is charged with similar crimes in Eaton County, the location of an elite gymnastics club.
Nassar is also awaiting sentencing in a federal court on child pornography charges.