Panama on track for record illegal drug haul
Comments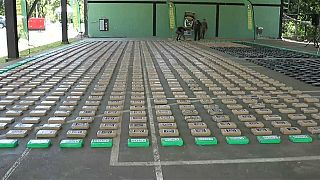 Panama is on track to hit a record level of illegal drug seizures after authorities confiscated some 2 tonnes of cocaine near the country's border with Colombia.
Total confiscations for 2017 are expected to exceed the previous annual record of 72 tonnes last year.
Security Minister Alexis Bethancourt said the increase is due to better coordination among law enforcement agencies as well as help from international allies.
Panamanian authorities say they have seen a spike in drug trafficking and violence since Colombia signed a peace deal with Marxist FARC rebels last year.