In U.S. since age of 13, facing deportation 37 years later
Comments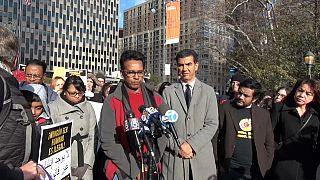 A protest has taken place outside immigration offices in New York to support an undocumented father-of-two facing deportation.
50-year-old Riaz Talukder has been in the US since the age of 13, taken there from Bangladesh by an uncle.
As well as having two sons, aged 11 and 15, Riaz's wife is suffering from cancer.
But under tough policies under President Trump, last month Talukder was ordered to show up on November 20 with his passport and a one-way plane ticket to Bangladesh.
Outside the immigration offices, protesters chanted "Yes, we can!"
So inspired by this strong New Yorker. Riaz Talukder is a father, husband, and proud Bangladeshi immigrant who has called NYC home for 37 years. We stand with him and urge DHSgov</a> use favorable discretion and stay his deportation. <a href="https://twitter.com/hashtag/Not1More?src=hash&ref_src=twsrc%5Etfw">#Not1More</a> <a href="https://t.co/nZwxXFpxZA">pic.twitter.com/nZwxXFpxZA</a></p>— Nick Gulotta (NickGulotta) November 20, 2017
Riaz earns a living as a taxi driver and has no criminal convictions since living in the US.
Colleagues have also expressed support.
We stand with Riaz Talukder—join us! https://t.co/1EszWkgkXk via unitedwedream</a></p>— NY Taxi Workers (NYTWA) November 19, 2017
Just before going into Monday's meeting with immigration officials, he told Euronews: "Today what's going to happen? I don't know. I have no idea, I hope everything is going to be Ok."
11-year-old Radi told Euronews: "If my dad got deported what will I do? What will my mum do? What will my brother do? Will we go back to Bangladesh if we have no money?"
Riaz's wife has been diagnosed with thyroid cancer and is due to undergo surgery.
15-year-old son Rafi is a student at a High School of Science.
Rights groups got involved in the case, vowing to do all they could to make sure that Talukder can stay.
After the meeting with immigration, there was news they had been hoping for: the father has been given a six-month reprieve to allow time for more legal action.
Saved! ICEgov</a> grants discretion for <a href="https://twitter.com/hashtag/riaztalukder?src=hash&ref_src=twsrc%5Etfw">#riaztalukder</a> a 6 month delay on next check-in. No deportation for now. <a href="https://t.co/w7E7fmhDds">pic.twitter.com/w7E7fmhDds</a></p>— Michael Herzenberg (MHerzenberg) November 20, 2017
The family's lawyer, Edward Cuccia, told Euronews: "The fight has really just begun. We are at the beginning stages.
"We have got motions that have just been filed. We have to let them continue to process. Let's hope those motions are granted. If they are not granted we have got additional appeals and additional motions that we have got to file after that."
Riaz, who lives with his family in Queens, says he only discovered he was illegal when he was 20 and says ever since he has battled to sort out his status, with no success.
Under Obama, the father was required to check in with the Immigration and Customs Enforcement agency (ICE) once a year but under President Trump those visits have been required every month.
The deportation order was made when officials said they could no longer use the powers of discretion they had used before.
Riaz Talukder has no criminal record, two U.S.-born children, and a wife fighting cancer—and now he's facing deportation https://t.co/gsXcWD0PaDpic.twitter.com/3K9IzoktZf

— The Daily Beast (@thedailybeast) November 19, 2017
Riaz says he does not remember the details of how he came into the US when he was 13.
"I don't remember much about how I came but I came with a boat, that's what I remember."
Euronews correspondent Michele Monte reported: "This kind of story has become more common under the Trump administration.
"Since January this year the number of undocumented migrants with no criminal charges deported is 30% more than in 2016."
Observers say thousands of undocumented immigrants whose cases were not considered a priority by the Obama administration have been deported since Trump became president.