Assad makes first foreign trip in over two years to thank Putin
Comments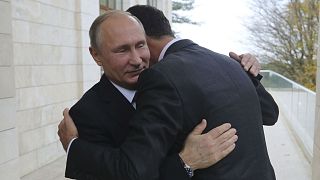 President Assad of Syria, on a visit to Russia, has been told by President Vladimir Putin that it is time to pivot from a focus on military operations in Syria to a search for a peaceful solution. Putin said he would follow up his meeting with Assad by talking in the next 48 hours to international leaders with influence over the conflict, among them U.S. President Donald Trump, the Saudi king, and the leaders of Iran and Turkey.
This was Assad's first official foreign trip in over two years.
"You mentioned the Astana process, which I, too, value greatly. Thanks to the Astana process we have been able to create de-escalation zones, and that, in turn, allowed us to start the first real, thorough dialogue with the opposition," said Putin.
In all the visit to Sochi lasted four hours, and was a closely-guarded secret until Assad's return.
"We are ready to talk with every country that is ready to stop bloodshed in Syria and that is ready to continue a political process, as long as they respect Syria's sovereignity and decisions made by the people of Syria," insisted Assad.
During his visit, President Bashar al-Assad gifted a painting to Putin, which he said was the work of a Syrian artist who had previously fled to France but recently returned to Syria.