Morocco: 15 people killed in food-aid crush
Comments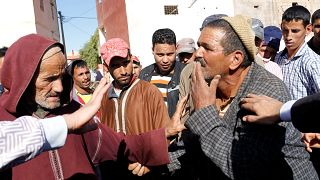 At least 15 people have been killed and five others injured in a crush as food aid was being handed out in western Morocco.
The country's interior ministry said a stampede occured in the impoverished town of Sidi Boulaalam, 60km from Essaouira.
Local media said a "benefactor" had organised the food distribution at a stall in the rural town, but it was rapidly submerged in a crowd of 800 people, most of whom were women.
Fifteen people have died and five more have been injured after a stampede broke out in the Moroccan town of Sidi Boulaalam, as food aid was being distributed in a market https://t.co/cqEZSKMHab

— RTÉ News (@rtenews) November 19, 2017
Some of the injured were evacuated by helicopter to a hospital in Marrakech for treatment, but for many, help arrived too late.
Most of the victims were women and elderly people.
According to the interior ministry, King Mohammed VI will personally cover the funeral and burial costs.
The immediate cause of the stampede remains unknown. For now, an investigation is underway to determine who was responsible.