The poor are our "passport to paradise" Pope declares
Comments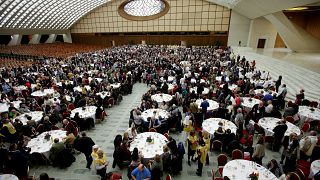 Helping the needy and neglected is one way of obtaining a "passport to paradise, Pope Francis has said.
Celebrating Sunday mass, the head of the Catholic Church marked "World Day for the Poor", by inviting homeless and unemployed people as guests of honour to the Vatican.
"There, in the poor, we find the presence of Jesus, who, though rich, became poor. For this reason, in them, in their weakness, a saving power is present. And if in the eyes of the world they have little value, they are the ones who open to us the way to heaven; they are our 'passport to paradise'. For us it is an evangelical duty to care for them," Pope Francis said.
The Pontiff has made defence of the poor, immigrants and the downtrodden a major plank of his papacy, and some 7000 people in need were welcomed to St Peter's Basilica for the special Mass.