Iran, Russia and Turkey diplomats meet to discuss Syria
Comments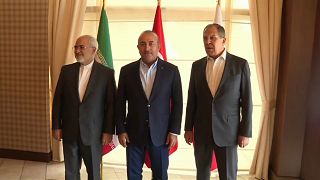 Turkey, Russia and Iran have held talks on the civil war in Syria in Antalya.
Turkish Foreign Minister Mevlut Cavusoglu met with his Russian counterpart Sergei Lavrov and Mohammad Javad Zarif of Iran and in the southern Turkish city for the closed-door meeting.
The discussions come ahead of Wednesday's summit between the leaders of the three countries at the Russian Black Sea resort of Sochi.
Moscow, Tehran and Ankara are sponsoring the so-called Astana peace talks, named for the Kazakh capital where they are regularly held, which calls for the creation of "de-escalation" zones in key areas of Syria.
Although Turkey has supported rebels looking to overthrow President Bashar al-Assad's government, it has muted its critiques of the Syrian regime, which is backed by Russia and Iran.
Russian President Vladimir Putin will host Turkey's Recep Tayyip Erdogan and Iran's Hassan Rouhani for the Sochi summit, where talks on reducing violence and ensuring humanitarian aid are on the agenda.
Turkish Foreign Minister Mevlut Cavusoglu didn't provide any more details on Sunday's meeting which comes as violence is diminishing in Syria's six-year war although a political solution still seems out of reach.
Earlier the Syrian army and its allies took complete control over Albu Kamal, Islamic State's last significant town in Syria.
The army had declared victory there earlier this month but the jihadists staged a counter-attack using sleeper cells hidden in the town.
Driving Islamic State from Albu Kamal means only a few villages along the Euphrates and patches of nearby desert, as well as isolated pockets in other parts of the country, remain in Syria of the caliphate it declared in 2014.