Missing explorer Benedict Allen is "safe and well"
Comments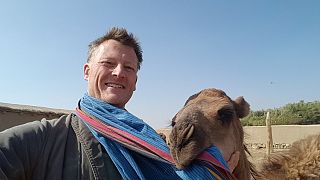 Benedict Allen, a British explorer who went missing in Papua New Guinea a few days ago, has been evacuated by helicopter and is now safe in Port Moresby. He's suspected to have contracted malaria, said a press statement.
"Benedict looks forward to being reunited with his family and friends but will need some time to get back to full health. He would like to send thanks for all the kind messages he has received."
A search for Allen, in the country to look for a reclusive tribe he had last encountered 26 years ago, was launched after his family said he had not taken a planned flight home.
The 57-year-old was expected to have emerged into the outside world by last weekend, but failed to appear. He had no phone or GPS when he went off in search of the Yaifo people.
His agent said in a statement to Euronews: "At 5pm local time (PNG) Mr Keith Copley, The Coordinating Director for New Tribe Mission in Papua New Guinea confirmed in writing that Benedict Allen was safe, well and healthy and is presently located at a remote airstrip 20 miles northwest of Porgera, Enga Province. Confirmation on exact location coordinates are now being confirmed in order to arrange evacuation as soon as possible."
"I may be some time," were Benedict Allen's own precise words in two posts just before his journey. They appear at the top of his last blog post on September 14, where he sets out in detail his quest to rediscover the Yaifo people he last met in 1991. A Twitter post almost a month later contains the same message as he was about to leave the UK. "Don't try to rescue me, please – where I'm going in PNG you won't ever find me you know…".
Marching off to Heathrow. I may be some time (don't try to rescue me, please – where I'm going in PNG you won't ever find me you know…) pic.twitter.com/BmH1DKdheS

— Benedict

ALLEN

(@benedictallen) October 11, 2017
Allen explained on his blog that no outsider had made the journey to visit the Yaifo since his initial "perilous journey". "This would make them the remotest people in Papua New Guinea, and one of the last people on the entire planet who are out-of-contact with our interconnected world".
His aim, he said, was to create a brief record of the lives of some of those he met over a quarter of a century ago. "Last time the Yaifo 'greeted' me with a terrifying show of strength, an energetic dance featuring their bows and arrows," he wrote.
The explorer acknowledged how treacherous the journey would be, adding that he would have "no obvious means of returning to the Outside World". "Either I must paddle down river for a week or so – or enlist the help of the Yaifo, as I did last time; together we managed to achieve the only recorded crossing of the Central Range."
The blog ends with a comment on Allen's decision not to take any communications equipment. "Just like the good old days," he says. "This is how I do my journeys of exploration. I grow older but no wiser, it seems…"