Rockets stun Suns in latest NBA clash
Comments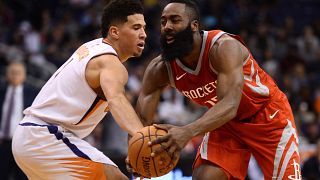 Houston travelled to Phoenix and fired a rocket at the home side, scoring 90 points in the first half in the eventual rout of the Suns , 142-116.
James Harden scored 48 points on his own as the Rockets' attack sliced open the Suns' defence at will, another devastating performance from the player with the NBA's record renewable contract, signed this year for a cool 200 million plus.
On this sort of form the Suns sank quickly to a double-digit deficit, but despite showing some penetrative bite of their own through Troy Daniels, they trailed by 25 points at the half-way hooter.
After doing very little the Sun's starry Chinese import Zhou Qi got into the game in the fourth, raising cheers from the Rockets fans every time he touched the ball. He ended with three blocks, but pointless.