Exclusive: Italian doctor laments Libya's 'concentration camps' for migrants
Comments
By Lilia Rotolini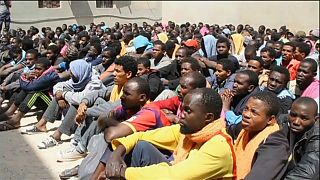 Migrants who have gone through Libyan detention centres have shown signs of severe abuse, including electric shocks, burns, lashes and even skinning, the director of health services on the Italian island of Lampedusa tells Euronews.
The United Nations said this week that migrants were being detained indefinitely in Libya in "inhuman" conditions and that UN monitors had been "shocked" by what they witnessed there.
The warning comes as the EU supports Libya's efforts to contain immigration flows into Europe. So far this year, the Libyan coast guard has picked up around 20,000 migrants at sea and is now holding them in detention centres.
Euronews reporter Lilia Rotoloni met with Pietro Bartolo, director of health services on the Italian island of Lampedusa. For more than two decades, he has cared for migrants coming from North Africa, including scores who've been through Libya.
"I think the agreement between Italy and Libya is worse than the one Europe signed with Turkey, because in Turkey refugee camps were created. Whereas in Libya, concentration camps were created," Bartolo said in an interview.
"There migrants are tortured, abused, women are raped, inconceivable violence is carried out. We've treated some cases of migrants who'd been skinned," he said, pausing to regain composure.
"We've seen signs of torture: gunshots, electric shocks, burns, lashes, skinning – brutal and unacceptable things."
Skin and bones
Italy's Deputy Foreign Minister Mario Giro told Euronews last week that Italy wanted to send NGOs to Libyan migrant detention centres, saying this could help prevent such violence.
Bartolo has written a book about the migrant crisis, "Lacrime di sale" ("Tears of salt"), and he also features in a documentary about Lampedusa, "Fuocoammare" ("Fire at sea") that won the Golden Bear in Berlin last year. He has seen many traces of severe abuse on migrants firsthand.
"They've been reduced to starvation – when they come they're just skin and bones. They (detention centre workers) do that to keep them calm."
"You must realise that in Libya, black people are not considered human beings, they're seen as inferior, you can do whatever you want to them," he said.
"Europe can't be proud"
Human rights group Amnesty International warned this summer on Euronews against "outsourcing" the migration crisis to Libya, as this could expose migrants to abuse.
Bartolo concurred: "When I hear people on TV rejoice: 'this year we've had 40 percent less arrivals' (into Europe), without thinking about what happens to the 40 percent less, should we be proud of that?
"No, we can't be proud, and Europe can't be proud either. Europe has a big responsibility, a huge responsibility and it cannot let Italy, Greece or Malta deal with this alone," he said.
"On a mural in Lampedusa we wrote "we should protect people, not borders". Because borders don't exist, we create them. We're world citizens and we all have the right to a dignified life."