African slaves 'sold in Libyan car parks for $200'
Comments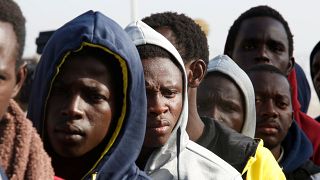 The United Nations' migration agency says growing numbers of African migrants passing through Libya are being sold as slaves by traffickers or militia groups before being held for ransom.
The International Organization for Migration (IOS) has published a report based on interviews with several West African migrants who told of being bought and sold in garages and car parks in the southern city of Sabha, one of Libya's main migrant smuggling hubs.
The head of the UN agency's Libya mission, Othman Belbeisi, told a news conference in Geneva that migrants were usually held for two to three months after being traded.
"Migrants are being sold in the market as a commodity,"Belbeisi said. "Selling human beings is becoming a trend among smugglers as the smuggling networks in Libya are becoming stronger and stronger."
"If you go to the market and you can pay between 200 and 500 dollars to get a migrant that will work with you on your daily jobs or support your work. After you buy, this person is handed over to you, again then it becomes your responsibility. Many of them escape, many of them are kept in bondage, and many of them are even imprisoned inside an area where they are forced to work on daily basis," he added.
There are also claims that women have been bought by private Libyan clients and forced to be sex slaves.
The new evidence suggests that slave markets are becoming much more open, trapping sub-Saharan migrants who cross the desert heading for Europe.
The UN agency is helping some of the victims to return home.
West African migrants are being bought and sold openly in modern-day slave markets in Libya. Via guardian</a> <a href="https://t.co/2ESJP1tA1e">https://t.co/2ESJP1tA1e</a></p>&mdash; IOM (UNmigration) April 11, 2017