Flash floods in Greece kill at least 15
Comments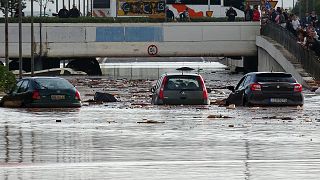 More bodies have been recovered following flash floods near Athens.
Greece's health ministry has now confirmed at least 15 dead.
Footage on state broadcaster ERT showed roads, west of the Greek capital, turned into rivers of mud.
The force of the deluge smashed through several homes and businesses.
In the town of Mandra, where several people were killed, the mayor described the disaster as biblical, saying everything had gone.
The industrial towns of Nea Peramos and Megara have also been badly affected.
The Greek coast guard said later that it had recovered the bodies of two men after they were swept out to sea.
The deaths follow a week of heavy rain in the country.