UN warns millions at risk in Yemen
Comments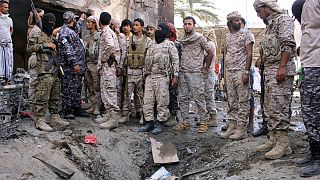 A suicide car bomb has ripped through a base used by a local security force in Yemen's southern port city of Aden killing at least six people.
Dozens of civilians were wounded in the attack which has been claimed by self-styled Islamic State. The jihadists are said to be gaining a foothold in the country as the civil war continues.
On the same day an air raid by the Saudi-led military coalition fighting against the Houthi movement, shut down the airport in the capital Sanaa. Last week it closed all land and sea routes into the country.
With the worsening situation William Spindler, spokesperson for the UN Refugee Agency in Geneva is becoming increasingly concerned.
"With the commercial flows into the country disrupted. The prices of essential goods like food and fuel have skyrocketed and this has caused a great deal of suffering and stress to the population."
The north of the country, home to 78 percent of the population, had 20 days' stocks of diesel, crucial for pumping water and fighting cholera, and 10 days' stocks of gasoline, with no prospect of resupply soon.
Yemen had commercial wheat stocks for three months for the entire population of 28 million and about 120 days of rice.
The Saudi-led coalition which closed the borders in order to stop the flow of arms to Houthi fighters has said it will re-open some seaports.
The UN has warned that the blockade has left millions of civilians struggling – around 21 million people are needing aid of which seven million are living under famine-like conditions.