North Korean defector 'critical' after being showered with 40 rounds of bullets
Comments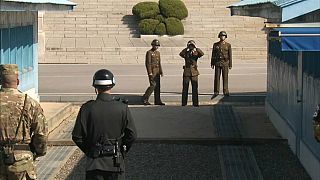 A North Korean soldier shot while defecting to the South is in a critical condition in hospital.
The South Korean government says he has been operated on and doctors expect he will survive.
The details
Five bullets were extracted from the soldier's body. Two remain inside, doctors think.
Lee Cook-jong, the surgeon in charge of the soldier's treatment, told reporters on Tuesday his condition is critical due to intestinal damage caused by the bullets.
A N.Korean soldier involved in an extremely rare and dramatic defection to the South was shot 6 times by N.Korean border troops as he dashed over the border AFP</a> <a href="https://t.co/QNLoC2aE26">https://t.co/QNLoC2aE26</a></p>— Hawon Jung (allyjung) 14 novembre 2017
How it happened
The soldier sped towards the border in a vehicle when a wheel came loose, forcing him to flee on foot from four North Korean soldiers who fired an estimated 40 rounds of bullets at him.
The soldier took cover behind a South Korean structure within the Joint Security Area (JSA) inside the demilitarised zone between the two Koreas. He was later rescued by South Korean and US soldiers at the border, according to the United Nations Command (UNC).
The UNC says an investigation is ongoing.
South Korean officials have yet to identify exactly where the soldier came from and what his intentions were.
It is the first time since 2007 a North Korean soldier has defected across the JSA.
Official statement from the UN command supervising the inter-Korean border about the recent defection incident…pic.twitter.com/AV470iqHuh https://t.co/sK7mw4jVUN#NorthKorea#intelligencepic.twitter.com/e7ZUTrBNhX

— Intelligence

HUB

(@intelhub_data) 14 novembre 2017
What has Pyongyang said?
Nothing so far.
Seoul says it has informed the North of the soldier and his ongoing treatment via loudspeakers installed at the border.
Shots fired
South Korea's Defence Minister Song Young-moo says it is the first time North Korean soldiers have fired towards the South's side of the JSA.
Some lawmakers complained the South's military should also have fired shots towards the North.
Moon Sang-gyun, the South's defence ministry spokesman, said military operations at the JSA are usually carried out under the order of the UNC, which is in turn under orders from the US military.
Officials say no South Korean or US soldiers were wounded during the incident. North Korea's military did not shown any unusual movements on Tuesday.
What they are saying
"Until this morning, we heard he had no consciousness and was unable to breathe on his own but his life can be saved," – Suh Wook, Chief Director of Operations at South Korea's Joint Chiefs of Staff briefed lawmakers.