French President commemorates terror attacks two years on
Comments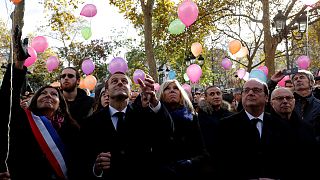 French president Emmanuel Macron led a ceremony marking the second anniversary of the attacks at the Bataclan concert hall in Paris. Ninety people were killed when gunmen opened fire on concertgoers at the venue.
A minute's silence was observed and victim's names read out.
Altogether 130 were killed in a wave of terrorist attacks on November 13 two years' ago.
The president and Paris Mayor Anne Hidalgo moved among the crowd after the ceremony offering words of comfort to the families of the victims.
Macron embraced parents and siblings, patting others on the back and listening to them talk about lost loved ones.
Jesse Hughes, the singer of the American rock band Eagles of Death Metal, was also at the ceremony The band was onstage when the shooting started.
Similar ceremonies took place at other attack sites including nearby Paris cafes.
The attacks that night ushered in nearly two years of state of emergency, replaced just two weeks ago with a tough counterterrorism law.