Moroccan football fans riot in Brussels after country's World Cup qualification
Comments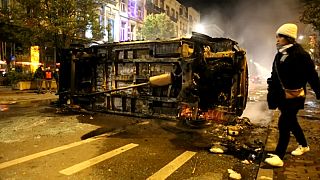 Following the qualification of Morocco for the World Cup, celebrations by some 300 football fans of Moroccan origin in the spot of choice for sporting events, the steps of the stock exchange in the center of Brussels, turned into riots.
#Belgium: 22 cops injured, several vehicles torched/smashed, banks and stores damaged during violent clashes between Moroccan soccer fans and police forces in #Brussels last night. pic.twitter.com/OjPnJeiuJ8

— th1an1 (@th1an1) 12 novembre 2017
Disturbances were reported in the City centre, Place de la Bourse, venue of the Christmas market under construction. Police say several cars were set on fire and shops looted.
Some 22 police officers were injured and riot police with water cannon were needed to disperse the mob. Calm was restored two hours after the violence erupted.
?‼️?? #Belgium: Moroccans rampage in #Brussels! These are the effects after the World Cup qualification of #Morocco. pic.twitter.com/t3LPCtIntY

— Onlinemagazin (@OnlineMagazin) 12 novembre 2017
UPDATE: On December 20, 2017 FIFA dared make a football prediction that Moroccan fans would be Numerous in 2018 World Cup. The soccer governing body took to its Facebook and Twitter accounts to express its pride for Moroccan fans, who are going to be "among the most numerous at the World Cup."
Supporters marocains, vous serez parmi les plus nombreux lors de la #CM2018 ! ????

Continuez d'acheter vos billets ici ? https://t.co/ZuZrKj1XfWpic.twitter.com/zucYJVwQr4

— Coupe du Monde ? (@fifaworldcup_fr) December 19, 2017
The association also encouraged the fans to buy more tickets in order to attend the competition.
The Atlas Lions fans had an eminent role in their team's qualification to the world tournament. During the World Cup qualifier games, the supporters showed great respect, confidence and support for their team in order to boost their enthusiasm and determination to qualify for the World Cup.
The fans were highly lauded for their support by the Moroccan team, its coach and the FRMF, the official Royal Moroccan Football Federation.