Sold out opening day for the Louvre Abu Dhabi
Comments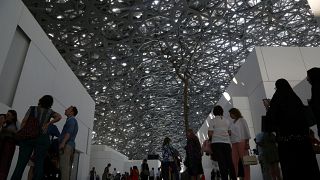 The Louvre Abu Dhabi opened to the public on Saturday after a decade-long wait positioning itself as a city of cultural tourism with a display of hundreds of works that it hopes will draw visitors from around the world.
Long lines of people thronged the new museum, which encompasses work from both the East and West.
Some visitors said they impressed by the museum, one of them considering the building itself as a highlight.
The modernist museum, designed by French architect Jean Nouvel, sits under a honeycombed dome of eight layers of Arab-style geometric shapes.
It draws the lapping waters of the Persian Gulf into its outer corridors, allowing individual beams of light that pass through the roof to strike the surface.
Abu Dhabi's conservative mores can be seen in the relative absence of pieces depicting nudity.
Still, the museum's artwork offers a brief history of the world and its major religions, and it doesn't shy away from Judaism.
Housing 600 artworks it has acquired, alongside 300 works on loan from 13 leading French institutions, in its 23 permanent galleries, the artists range from Paul Gauguin and Vincent Van Gogh to Pablo Picasso and Cy Twombly.
The entrance ticket to the museum is 60 dirhams (14.00 euros) with all 5,000 tickets sold out for the opening day.
The Abu Dhabi museum, which was set up under a 2007 inter-governmental agreement between Paris and Abu Dhabi, has partnered with museums and cultural institutions in the Arab world, who will lend 28 significant works.
Having invested over $1 billion (850 million euros) in the museum, Abu Dhabi is hoping culture will attract tourists.
Two more museums, Guggenheim Abu Dhabi and Zayed National Museum, are planned around the Louvre Abu Dhabi in the Saadiyat Cultural District that already hosts art fairs, exhibitions and performances.