France commemorates Armistice day
Comments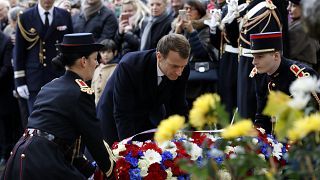 French president Emmanuel Macron lays a wreath at Arc de Triomphe, before the tomb of the Unknown Soldier in Paris to commemorate the 99th anniversary of the end of World War One.
Earlier Mr Macron visited the musuem honouring Georges Clemenceau – the prime minister of France during the war.
On the 11th of November 1918 the Allies and Germany signed an Armistice in the Forest of Compiegne in France to stop the hostilities on the Western Front, which took effect at eleven in the morning.
On Friday Mr Macron met German President Frank-Walter Steinmeier to inaugurate a museum on a rocky peak overlooking the Rhine Valley, where about 25,000 French and German soldiers were killed.
The mount, at an altitude of 956 meters (3,136 feet) in eastern France near the border with Germany, was considered strategically important because it offered a commanding view of its surroundings.
Macron and Steinmeier gave each other a long hug in front of the monument commemorating the battle and walked together in the military cemetery and into former German trenches.