High-tech ball launched for 2018 World Cup
Comments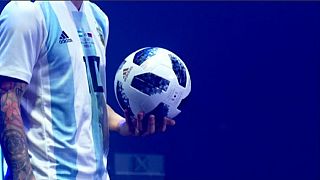 Germany are the world cup champions and Adidas make the ball that will be used in Russia next year, the German company launching its all-new singing and dancing ball at a snazzy event with Lionel Messi caressing the object of desire.
He was in the spotlight along with the 'Telstar 18', but the backline in the shadows wasn't shabby, either, featuring among others Zinedine Zidane, Alessandro Del Piero, Xabi Alonso, and Lukas Podolski.
The ball's makers are reviving the design for the 1970 world cup, but it's otherwise bang up to date with a smart HFC chip inside that people can interact with on their phones.
Adidas is rolling out apps and packages so the balls can deliver content while being used.