Hunt like a Dane: Experience the traditional Hubertus horse race in 360°
Comments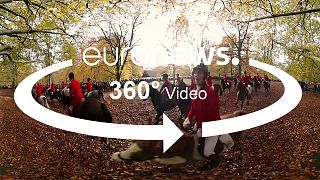 160 horse riders, all dressed in a traditional Danish costume of red and white, congregated on Sunday to compete in the traditional yearly Hubertus Hunt in the Dyrehaven park, north of Copenhagen. The hunt is an 11-kilometre steeplechase with 32 obstacles. It ends with an 800-meter dash to find the winner.
Catrine Goldschmidt and her horse Mr. Rubino were first over the finish line. Goldschmidt won The Royal Highness Prince Henrik's Honour Price, which was presented by the Danish crown princess Mary and her children. Approximately 30,000 people were in attendance.
The Hubertus hunt has been a yearly tradition since 1900, but it dates to the 1680's, when the Danish king Christian V. designed a singular network of star-shaped tracks. This gave him a great overview over the royal fox hunts, that were an important pastime for the nobility. The Dyrehaven park served as a centre for Royal Danish hunts for centuries. In today's race, the prey is symbolized by fox tail attached to the costumes of two horse riders.
The Dyrehaven park was admitted to UNESCO's list of world heritage in 2015, because of its unique hunting heritage.