Trump arrives in South Korea with sights set on Pyongyang
Comments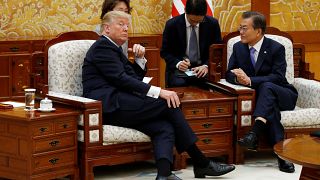 US President Donald Trump has arrived in South Korea on the second leg of his five-nation tour of Asia, bringing the leader closer than ever to the frontlines of the nuclear standoff between Seoul and its neighbour to the North.
Amid heightened tensions with Pyongyang over the secretive communist regime's aggressive weapons programme, the White House says that Trump's trip is intended to demonstrate U.S. resolve over his hardline approach to North Korea.
But many on the Korean peninsula fear that the outspoken leader's rhetoric could only serve to increase the risk of military conflict between the two countries.
As Trump arrives in South Korea, protesters in Seoul worry he's itching for war with North Korea pic.twitter.com/JPbjAFe3Af

— Richard Engel (@RichardEngel) 7 November 2017
While many were on hand to greet him, Trump's arrival on Air Force One at the Osan Air Base outside the South Korean capital came amid popular protests over his bellicose approach to such a sensitive issue.
While in South Korea, Trump will visit U.S. troops stationed at the sprawling Camp Humphreys garrison close to the North Korean Border and hold talks with President Moon Jae-in.
President realDonaldTrump</a> speaks to troops at Camp Humphreys in South Korea, after a GREAT lunch!<a href="https://twitter.com/hashtag/POTUSinAsia?src=hash&ref_src=twsrc%5Etfw">#POTUSinAsia</a> ???? <a href="https://t.co/pjIamJs7tH">pic.twitter.com/pjIamJs7tH</a></p>— Dan Scavino Jr. (Scavino45) 7 November 2017
In a rare show of US military might in the region, three of the country's aircraft carrier strike groups are due to carry out an exercise together in the Western Pacific, according to US officials.
Trump's visit to the region is aimed at ratcheting up pressure on North Korea and forging a united front against the Kim regime, as well as bolstering trade.
Trump's 24-hour stay in Seoul comes after a visit to Tokyo, where he met with Prime Minister Shinzo Abe and said Japan could shoot North Korean missiles "out of the sky" if it bought the U.S. weaponry needed to do so – a stance Japan has long avoided.