Trump dumps full box of fish food into Japanese koi pond
Comments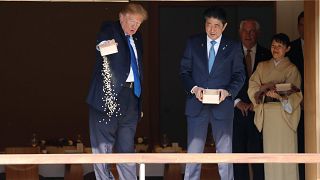 US President Donald Trump today fed carps during his visit to Japan and showed off a rather full-on technique.
Japan's Prime Minister Shinzo Abe accompanied Trump on a trip to a state guest house in Tokyo when they stopped to feed the creatures and the president emptied his whole box of food into the water.
Japan was Trump's first stop on a two-day Asian trip where the two leaders are expected to discuss the presentation of a united front against North Korea, as well as improving diplomatic and trade ties between their countries.