Farmers protest against Trumps plans for new U.S - Mexico border wall
Comments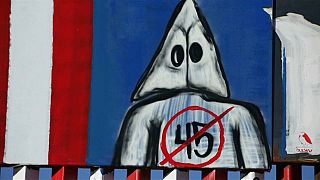 A collective of farmers from Central and South America gathered at an existing border fence between Mexico and the USA to protest against President Donald Trump's plan to divide the two countries with a modernised border wall.
The farmers are part of a regional farming bodies from countries such as Colombia, Haiti and Guatemala.
Their message is that Trump's planned border wall will be bad for human rights, trade and will not stop the flow of migrants crossing north to the USA.
Protesters painted a Ku Klux Klan figure on the border fence to denounce the American president.
Ciudad Juarez sits in the Mexican state of Chihuahua, just across from El Paso, Texas.
A border wall already exists along the international border between the states.
At the height of Mexico's drugs war, Ciudad Juarez was the country's most dangerous city.
But in recent years security has strengthened and the city has become an international draw for companies wanting to set up factories in Mexico.
President Donald Trump has already ordered prototypes for a border wall to cover the roughly 3,200km U.S.-Mexico border.
Trump has touted that Mexico will pay for the wall but has not provided a plan on how the US's southern neighbour will pay for construction.