Netflix fires Kevin Spacey from House of Cards
Comments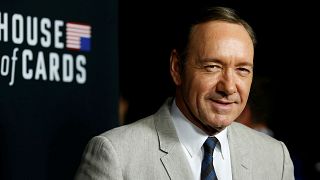 Netflix has fired Kevin Spacey from its hit show House of Cards after claims of inappropriate sexual behaviour mount against the actor.
The streaming service is also declining to release a film starring the Oscar-winning star.
In a statement the company said: Netflix will not be involved with any further production of House of Cards that includes Kevin Spacey. We will continue to work with MRC (production company Media Rights Capital) during this hiatus time to evaluate our path forward as it relates to the show.
"We have also decided we will not be moving forward with the release of the film Gore, which was in post-production, starring and produced by Kevin Spacey."
Production on House of Cards, in which Spacey plays US president Frank Underwood, had already been suspended earlier this week.
A number of sexual harassment and assault allegations have surfaced against Spacey after actor Anthony Rapp accused the star of trying to seduce him in 1986 when Rapp was just 14.
Spacey came out as gay while making an apology to Rapp, for which he was widely criticised.
US media reports say that eight former and current House of Cards employees are accusing Spacey of making the set a "toxic" environment because of repeated sexual harassment.
The American actor is also reportedly being investigated by UK police over an alleged sexual assault.
Spacey is said to be seeking unspecified treatment.