Pro independence rally takes place in Barcelona
Comments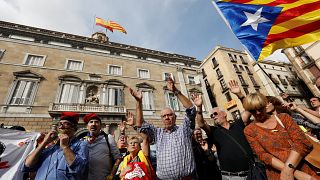 Over a thousand people gathered in Barcelona's Sant Jaume square for a pro-independence rally.
Infront of the Catalan government headquarters, they chanted "Puigdemont, our President" and waved the unofficial Catalan flag.
Spain's state prosecutor has asked for a European arrest warrant to be issued for the deposed Catalan president.
He remains in Belgium with four members of his sacked cabinet, refusing to return to Madrid to face questioning.
Twenty regional politicians were called to appear after the chief prosecutor demanded they be charged with rebellion, sedition and embezzlement following the Catalan parliament's declaration of secession October 27.
The protesters in Barcelona on Thursday also chanted slogans calling for the release of pro-independence activists Jordi Cuixart and Jordi Sanchez.