Several dead after blast in Afghan capital
Comments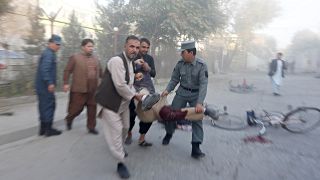 A powerful explosion in Kabul has left several people dead and dozens more wounded.
The blast happened in an area of the Afghan capital housing foreign embassies and government departments.
A Reuters television team saw at least eight people who appeared to have been killed, besides several wounded at the explosion site in the city's Wazir Akbar Khan area.
A public health official said three dead bodies and 10 wounded had been taken to city hospitals.
No-one has claimed responsibility for the attack, or confirmed the cause of the explosion.
A police spokesman said it appeared to have been caused by a suicide bomber on foot but police were also investigating whether it was a bomb planted earlier.
The street in the Wazir Akbar Khan area of the city is close to several foreign embassies, as well as an office and guesthouse of the ministry of defence.
The blast follows a series of attacks in or around Kabul this month, including one on a Shi'ite mosque in the city that killed more than 50 people and a separate attack on an army training facility that killed at least 15 soldiers.