Romance between Donald Trump and Benjamin Netanyahu – who would have thought?
Romance between Donald Trump and Benjamin Netanyahu – who would have thought?
That's the theme of yet another surprising mural that has popped up on the West Bank wall, depicting the US president and the Israeli leader exchanging a kiss.
As their lips touch, words above their heads depict a dialogue, with Netanyahu saying, "Thanks for the wall Trumpy pumpkin," and Trump responding: "Bebe your country and you will always come first my love."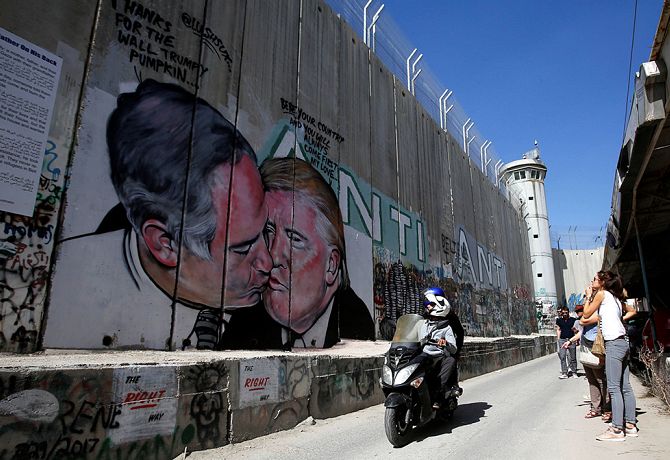 The Banksy-like piece is believed to be the work of Australian graffiti artist Lushsux.
Speaking to Reuters earlier, a man who had his face covered but identified himself as the artist said: "The wall is a message in itself, I don't need to write 'Free Palestine' or something like that, something really direct… that people will ignore.
"I just paint what I usually paint and maybe people will start looking at the background and looking at the razor wire and looking at people stuck in here, and maybe that will work better."
Lushsux is also held responsible for two other West Bank wall murals featuring the US president: one showing Trump kissing an Israeli watchtower, and the other depicting him placing his hand on the barrier and thinking about building a similar wall on the US border with Mexico.
Amateur Trump acting amorously towards an Israeli watchtower in Bethlehem. My story here: https://t.co/ktj2ycLUwupic.twitter.com/KJAVAh8hMQ

— Noga Tarnopolsky (@NTarnopolsky) 5 août 2017
Stretching over more than 700 kilometres and annexing Palestinian land inside the occupied West Bank, the wall is considered a security barrier against terrorism by Israel. For Palestinians, it is seen as an apartheid wall and has become a showcase for protest art.