Pope statue in French town sparks row
Comments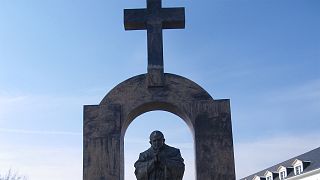 A statue of Pope John Paul II that has been in place since 2006 is at the centre of a bitter row in France.
The sculpture in Ploërmel in the north west of France features the late pontiff in prayer, standing beneath an arch that is adorned with a large cross. It is the cross element of the statue that has sparked a legal battle.
The Conseil d'Etat, France's top administrative court, has ruled that because the statue occupies a public place, it contravenes the country's law of separation of Church and State. It's ruling means that while the Pope and the arch can remain, the cross must be removed and it has given the town six months in which to do so.
Gifted to the Mayor of Ploërmel in 2006, the sculpture has proved controversial from the start and was erected despite an anti-statue campaign among the local population. As well as ordering the removal of the cross, the Conseil d'Etat has also ruled that the Brittany commune must pay €3000 to the National Federation of Free Thought, a group that in recent years has been lobbying to have the statue removed.
The row has now prompted the involvement of Polish Prime Minister Beata Szydło, who has suggested that the statue could be relocated in Poland to "save it from censorship". It's also sparked a backlash on Twitter where people are sharing images of crosses under the hashtag #montretacroix
Lourdes. #MontreTaCroixpic.twitter.com/nFugaDhnFG

— christine Boutinن (@christineboutin) October 28, 2017
Reports at the weekend suggest that Patrick Le Diffon, the current Mayor of Ploërmel, may seek to defuse the row by reclassifying the area in which the statue stands so that it is no longer considered a public space.
(Image © chisloup/Wikimedia Commons)