Egyptian lawyer says raping women in revealing clothing is 'national duty'
Comments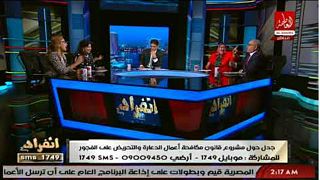 An Egyptian lawyer has sparked outrage after saying in a TV debate that raping or harassing women wearing revealing clothing is a "national duty".
Nabih al-Wahsh made the remarks in a panel show broadcast on Al-Assema earlier this month during a debate over a draft law on prostitution.
In the below clip, he is seen at 22 seconds asking: "Would you accept a girl walking in the street revealing half of her thigh? A girl walking like this – harassing her is a patriotic duty and raping her is a national duty."
The comments have sparked outrage across the country, with Egypt's National Council for Women announcing that it plans to file a complaint against the lawyer and the TV channel.
The council also urged media outlets not to host controversial figures who make remarks that incite violence against women.
The televised comments came just weeks after a poll named the Egyptian capital Cairo as the world's most dangerous megacity for women.
A study conducted by the Egyptian Centre for Women's Rights in 2008 found that 83 percent of women said they'd been sexually harassed, while 62 percent of men admitted to harassing women.