Watch: French president's dog relieves himself during meeting with ministers
Comments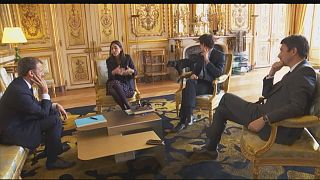 French President Emmanuel Macron's dog, Nemo, still has some training to do.
The black labrador-griffon cross made the president blush when he casually urinated against a fireplace, right next to where Macron and his junior ministers were having a meeting.
Footage shows the French president and three ministers discussing inner-city investments while the two-year-old pup relieves himself on the background, breaking everyone into laughter.
"I wondered what the noise was," says the junior minister for ecology, Brune Poirson, who was interrupted mid-sentence by Nemo's misbehaviour.
"Does this happen often?" jokes junior minister Julien Dernomandie.
"No," laughs Macron, "you have triggered a totally unusual behaviour in my dog".
As Macron tries to recompose himself, he says "excuse me" and gestures inviting the ministers to carry on with the meeting.
This is not the first time Nemo steals the scene. France's 'first dog' wasn't quite at ease when he was officially introduced.