The moment a black man hugged a neo-nazi
Comments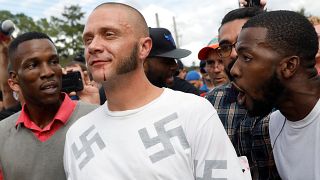 When anti-fascist rallies took place at Florida University on October 19, one scene in particular caused a lot of commotion.
As 300 protesters demonstrated against a speech by white supremacist Richard Spencer, a white man wearing a shirt printed with swastikas walked through the crowds in an act of defiance.
Many reacted in anger, surrounding and pushing the man over. In mixed reactions and confusion some were heard shouting insults while others screamed to leave him alone.
More video: after Nazi gets shoved, man says to him, "Speak your mind. Speak loud. Everybody hates you." #SpenceratUFpic.twitter.com/KbQZHqtrT9

— Kathryn Varn (@kathrynvarn) October 19, 2017
Tensions rose and at one point the man was attacked.
Protestors take on Nazi sympathizer Richard Spencer in Gainesville, Florida.

Hundreds of protestors have descended upon Florida to protest the visit of white nationalist leader Richard Spencer. Many supporters openly wearing nazi symbols… HERE IS A PHOTO OF THERESPONSE: pic.twitter.com/41gbNmJ0f0

— Eduardo Samaniego (@EduSamani) October 19, 2017
However, a black man identified as Aaron Alex Courtney confronted the situation differently.
"Why don't you like me? What is it?" he said, as he approached to hug the neo-Nazi supporter.
The skinhead frowned at first but then smiled awkwardly and hugged Courtney back to a cheering crowd (watch below).
Adam Samei, who filmed the scene, felt the message had a strong impact: "someone was able to show love in the face of hatred".
The sports team representing the University of Florida, the Florida Gators, later tweeted: "hug your haters", summing up what some might have taken home as a lesson.
Hug your haters. pic.twitter.com/522loaKYkn

— Florida Gators (@FloridaGators) August 20, 2017