Dozens killed in Afghan mosque attacks
Comments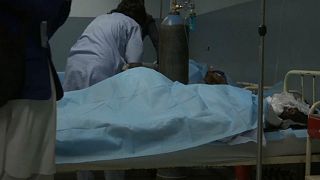 Suicide bombers have killed dozens of people including children in two separate attacks on mosques in Afghanistan.
ISIL said it was behind Friday night's bloodshed at a Shi'ite Muslim mosque in the capital. At least 39 worshippers died there.
Elsewhere, at least 20 people were killed in an attack on a Sunni mosque in the central province of Ghor.
It is a devastating end to a particularly deadly week in the country in which violence – largely carried out by the Taliban – has now claimed around 180 lives.
A witness said the bomber walked into the Shi'ite Imam Zaman mosque in a western district of Kabul as people were praying and detonated an explosive. Some reports said he had first opened fire on worshippers.
Shi'ite Muslims have suffered a series of attacks in Afghanistan in recent months, many of them claimed by the Sunni Muslim militants of the so-called Islamic State group.
with Reuters