Fire guts luxury hotel in Yangon
Comments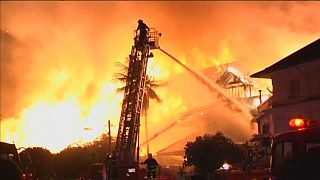 A huge fire has ripped through a luxury hotel in Myanmar's biggest city of Yangon.
The blaze broke out at the Kandawgyi Palace Hotel, a lakeside hotel popular with foreigners and a landmark in the city, at around 3 am local time on Thursday.
Authorities said there were no fatalities and only one Chinese national was injured. But the Associated Press reported that one man died and two were injured.
The fire, which started at around 3am, ravaged the teak upper floors of the hotel.
Guests were moved to nearby hotels and it took firefighters several hours to put out the flames.
The cause of the blaze is under investigation.
On social media, photos and video showed the fire sweeping through the building and smoke rising from the five-star hotel hours after daybreak.
A fire has gutted the colonial era teak wood Kandawgyi Palace hotel in Yangon. One fatality confirmed so far. AFP</a> photos by <a href="https://twitter.com/ye_aung_thu?ref_src=twsrc%5Etfw">ye_aung_thupic.twitter.com/Ng8EjGMZ4C

— Jerome Taylor (@JeromeTaylor) October 19, 2017
In Yangon for a few days & our hotel caught on fire. Luckily my family and I were all able to get out safely. I hope everyone else did too. pic.twitter.com/qfyoKS8fFA

— DP3PO (@davidpowersIII) October 19, 2017
Massive fire nearly destroys five-star lakefront hotel in Myanmar's Yangon https://t.co/DptuJaZ4Ykpic.twitter.com/RnDB7451W4

—

SCMP

News (@SCMP_News) October 19, 2017
My wife evacuated from Kandawgyi Palace Hotel overnight as fire destroyed iconic wooden building. So incredibly relieved she's safe. #Yangonpic.twitter.com/BqvP0UoUBq

— ᴊᴜsᴛɪɴ ʟᴀɴᴄʏ (@justinlancy) October 19, 2017
Such terrible news that fire destroy Yangon's Kandawgyi Hotel, Myanmar, a magical place.
Always!! pic.twitter.com/sJ4vpeNBgJ

— M. Soriano Urban (@sorianourban) October 19, 2017