"The Death of Stalin" takes light-hearted look at the fall of the dictator
Comments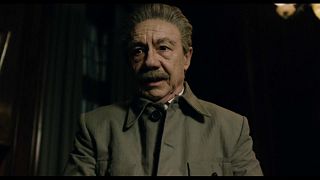 It may not be historically accurate, but the latest comic gem to come from the fevered imagination of Armando Iannucci, "The Death of Stalin", is a broad-brush romp through the last days of the Soviet dictator, and the frantic power struggle that followed his death.
The movie is a comedy wrapped in a tragedy. He is deadly serious as Star Trek's latest captain, but Jason Isaacs plays with comedy gold here.
"I tell you what's weird about it: the film is obviously primarily hilarious and that's the most important thing about it, and all of the most absurd, farcical things in it actually happened," he says.
"The Death of Stalin" stars a large ensemble of acclaimed actors, including Jeffrey Tambor, Steve Buscemi, Simon Russell Beale, Michael Palin, Paul Whitehouse, Rupert Friend and Andrea Riseborough.
Iannucci is at the top of the comedy tree right now after "The Thick of it", "In the loop", and "Veep".
"The fact that they debated for hours whether to get a doctor, because Stalin had a lot of doctors rounded up under suspicion of trying to poison him – that's true, and so it goes on. I mean, you take these true elements,
you lay them in a sort of storyline and then, you know, the dialogue we come up with and as a way of, you know, blending the stories together," he says.
The film has sparked some controversy in Russia, where one member of the Communist Party called the film "revolting" and suggested it should be banned. But Iannucci insists the Russian release will go ahead as planned next year. It is out now in the UK, and rolling out across Europe.