Louvre says 'non' to Dutch sex sculpture
Comments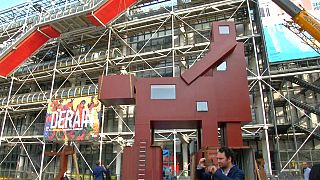 A Dutch artist's controversial sculpture has been branded too obscene by the Louvre, the world's most popular museum.
The Domestikator, by Joep van Lieshout, was meant to be part of a contemporary art fair but the Louvre said not in our back yard please.
The 12-metre high geometric piece shows a red human figure appearing to penetrate a four-legged creature, but van Lieshout believes his work is in the best possible taste.
"I don't think it's very sexual explicit. I don't know what I can do to make it less sexual explicit. It's called the 'Domestikator', so it's about domestication which in fact is something good," said van Lieshout.
"It's the way how humans start using animals in agriculture to improve their life, industrial revolution"
The work, made of steel, wood and fibreglass, is now on display outside the high-tech architectural building of the Pompidou Centre in the French capital.
And you can step inside the Domestikator …. be part of the action (as such). pic.twitter.com/foDgENbVeF

— Gareth Harris (@garethharr) October 18, 2017
Local media said the Louvre had made its decision after a barrage of negativity on social media and fears that it would not be received in such a public place.
Already displayed for three years in Bochum, Germany, the sculpture had not courted any controversy until now.