Colin Kaepernick accuses NFL teams of colluding to keep him out of the game
Comments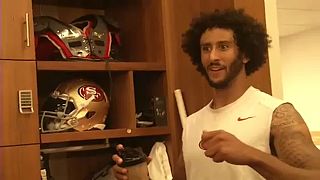 The Footballer who started the kneeling protest during the US national anthem is suing the NFL.
Colin Kaepernick is claiming club owners have conspired not to hire him.
The 29 year old has been out of football since the 2016 season, not long after he kneeled to make a point against racial injustice – including the shooting of unarmed black men.
His lawsuit says "If the NFL is to remain a meritocracy, then principled and peaceful political protest should not be punished and athletes should not be denied employment."
His "taking a knee protest" drew criticism from US president Donald Trump and vice-president Mike Pence.