Voting underway in Austrian election
Comments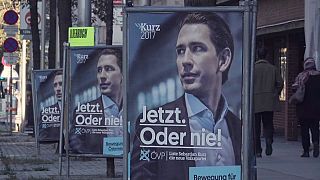 Voting is underway in Austria's parliamentary election.
Embattled Chancellor Christian Kern looks set to lose to the Conservative Peoples Party led by 31 year-old Foreign Minister Sebastian Kurz, who has boosted his party's popularity with a hard line on refugees.
But Kern's supporters are optimistic he will win. They say he stands for solidarity and unlike the other candidates he doesn't just care about rich people and multinational companies.
Opinion polls predict the fight for second place will be a tight race between Kern's Social Democrats and the Eurosceptic Freedom Party's candidate Heinz-Christian Strache.
Immigration has dominated campaigning with indications Austria wants a more hardline government. Some people say although they are in favour of immigration, Kurz is right in wanting to regulate the flow of migrants without letting more refugees into the country. Kurz aims to do this by closing the main migration routes through the Balkans and across the Mediterranean.
The last polling stations close at 5pm local time with the first projections due minutes later. A final count is expected later in the evening.
Any tight margins might not be settled on the night, however, since a record number of postal ballots have been issued.