Austrians get ready to vote in election dominated by far-right populist politics
Comments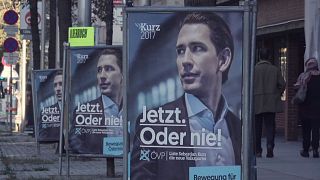 Austrians head to the polls on Sunday, for a snap national election widely seen as the latest barometer of right-wing populist politics in Europe.
The left-leaning Social Democrats, led by current Chancellor Christian Kern, appear to be vying for second place with the far-right Freedom Party after their campaign was dogged by a smear campaign scandal.
One supporter of the Social Democrats said: "First of all, I like that Kern does not rabble rouse like other candidates, that he does not divide society, and stands for solidarity. The others only care about the people with bigger salaries, and bigger companies, and not about regular people."
Immigration has dominated the campaign, with Austria's far-right Freedom Party vowing to shut certain sectors of the economy to non-EU workers and deport foreign convicts.
Many voters feel the country was over run during Europe's migration crisis in 2015.
One woman said: ""Yes I think it is good to control borders, meaning I'm of course pro-migration and that many people can come to us but at some point we have to stop. I think that Kurz has the right mindset because he wants to regulate this (the migration crisis) without admitting more people."
Foreign Minister Sebastian Kurz has been topping the polls. Like the far-right, the 31-year-old foreign minister has also called for Austria to have a tougher migration policy.
His People's Party, like the Social Democrats have also not ruled out forming a coalition with the far-right Freedom Party.