Catalan leader signs declaration document
Comments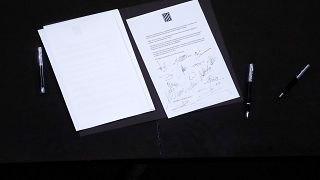 After making the most important speech of his political life Catalan leader Carles Puigdemont signed a document declaring independence from Spain…. and most notably its suspension to allow for talks with the national government.
He was followed by the speaker of the regional Parliament and one by one other party leaders.
The symbolism will not have been lost of those seeking a split with Spain but the fact remains the future of the region is still unclear as Madrid still holds the opinion that any unilateral declaration of independence is illegal and has vowed to restore law and democracy.
The 72 pro-independence MPs signing right now, #Catalonia's Declaration of Independence before, inter alia, hundreds of foreign journalists. pic.twitter.com/xkX2fgrngB

— M Strubell. (@mstrubell_EN) October 10, 2017