Family split over Catalan independence
Comments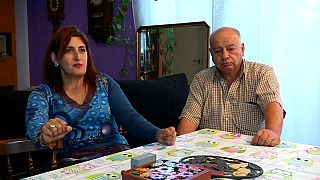 Catalonia's fiercely disputed referendum on independence has not only divided a nation but families within it.
The wealthy northeastern region held the banned referendum on October 1, and separatist leaders are now preparing to unilaterally declare independence – a move the Spanish government says would be unconstitutional.
Colombian national Gustavo Gomez says political divides within his family have grown so deep that his wife and children have called him a "fascist" and asked him to move out of their home.
"They [my family] have kicked me out of my house. My wife has asked me to leave, my children have asked me to leave. What am I doing here?"
Gomez is a staunch supporter of unity, while his Barcelona-born wife Montserrar Armisen and two children feel passionately that independence should be declared.
The couple met in Colombia, where Armisen and her family moved during the dictatorship of Francisco Franco, but have been living in Catalonia for 10 years.
"Everything that has been done, in my view, is completely illegal. A politician that breaks the law today, will break the law tomorrow," Gomez said.
Armisen denies asking her husband to move out, but has questioned why he would want to stay in Catalonia if he doesn't agree with independence.
Independence "is something we deserve and we are sure we will achieve it," she said.
With Reuters