Man gives up his guns in wake of Las Vegas shooting
Comments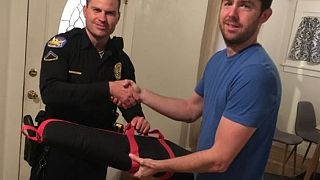 An American man's surrendering of all his guns in response to the Las Vegas shooting has gone viral.
Johnathan Pring handed over his arsenal to local police after the deadliest mass shooting in recent US history.
Mr Pring wrote on Facebook: "People on social media and in the news are asking questions and looking for answers.
"I have an answer. If civilians do not have guns then mass shooting events will occur less frequently."
"I will miss my guns, I enjoyed taking them to the range and doing Rambo poses in front of the mirror. I paid a lot of money for them.
"However, if I was to write down the 10 most important things in my life guns wouldn't make the list.
"I hope my actions inspire others. If we can achieve a safer world for our children, we will have done a good thing."
The Facebook post was shared thousands of times before Mr Pring deleted it after receiving negative comments and even death threats.
In a post in response to the negative comments, Mr Pring said: "I still believe the Las Vegas shooting event could have been avoided.
"I also believe that future events can be avoided with common sense gun controls."
Stephen Paddock killed 58 people and injured 500 others after shooting at a crowd of concert goers in Las Vegas last week.