NRA urges extra regulations on gun 'bump-stocks' after Las Vegas carnage
Comments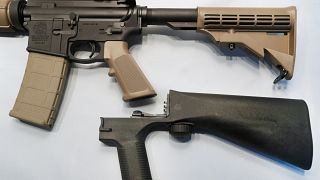 Firearms control measures are the last thing the US gun lobby normally wants to see.
But in the wake of the Las Vegas massacre, the influential National Rifle Association says "additional regulations" should be applied to so-called bump-stocks.
They are devices that allow semiautomatic rifles to operate as if they were fully automatic machine guns.
Senior Republicans have signaled they are ready to deal with the issue as has President Trump, a staunch supporter of gun rights during his White House campaign.
Asked while talking to reporters if they should be banned, he replied: "We'll be looking into that over the next short period of time."
WATCH: President Trump is asked questions about regulation of bump fire stocks. https://t.co/OmrIaiirvR

— NBC News (@NBCNews) 5 octobre 2017
Police have said shooter Stephen Paddock equipped 12 of his weapons with bump-stock devices
Authorities believe his ability to fire hundreds of rounds per minute from a 32nd-floor hotel suite was a major factor in the high casualty count – 58 people killed and hundreds wounded.
As new amateur video of the killings emerged so did reports that Paddock may have targeted other sites for attack in Chicago or Boston.
Investigators remain puzzled at what drove him to assemble an arsenal of nearly 50 firearms, thousands of rounds of ammunition and a supply of explosives before opening fire on a country music festival on Sunday night.
with Reuters