#dearcatcallers: Woman takes selfies with men that heckle or ask for sex in the street
Comments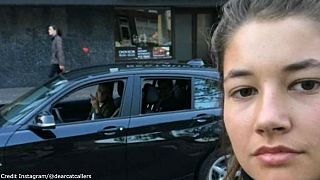 A student from Amsterdam found a novel way of calling out men who shouted at her in the street by taking selfies with them and posting them on Instagram.
Noa Jansma, a 20-year-old student, started the Instagram account @dearcatcallers as she "didn't know how to respond" when men yelled at her in the street, having experienced everything from wolf-whistling to being asked for sex.
She took selfies when any man approached her in the street along with a caption stating what action the man had taken and what they had said to her.
The goal of the month-long art project was to "to create awareness about the objectification of women in everyday life" and by taking a photograph with the person who was objectifying her she "reversed power ratio".
Noa did not tell any of the men why she was taking their photograph unless they asked, which only happened in one case, but the person still agreed to go ahead with the photo.
In fact, many of the men she photographed were "proud" to have been asked for a picture, she said.
Noa said her male friends had no idea what women of her age sometimes experienced and that is one of the reasons she undertook the project.
Her goal wasn't to "shame" men, but she did want to make a statement.
The 20-year-old has now finished her project after one month, but she has urged other women to share selfies with their "catcallers" to show that the issue is a "global phenomenon".