Las Vegas gunman rented room overlooking another music festival week before shooting
Comments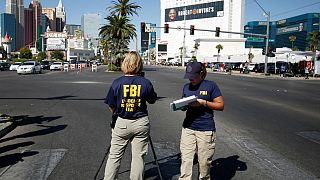 The gunman who killed 58 people and injured hundreds more in a mass shooting in Las Vegas had rented another room in the city on the weekend of a different music festival, according to authorities.
Stephen Paddock rented a room through Airbnb at the Ogden hotel in downtown Las Vegas over the weekend of September 22 to 24, Sheriff Joseph Lombardo told reporters.
The "reasons that ran through Paddock's mind are unknown but it was directly at the same time as Life is Beautiful," a festival featuring acts including Lorde, Blink-182 and Muse, Lombardo said.
He added that video had been recovered from the hotel to review Paddock's actions while he was there.
Lombardo said Paddock fired hundreds of rounds for a full 10 minutes from his suite on the 32nd floor of the Mandalay Bay hotel on Sunday (October 1) before turning a weapon on himself.
Paddock's girlfriend said she had no idea about what he was plotting.
Marilou Danley arrived back in the US on Tuesday. Her partner Stephen Paddock, who carried out the attack, paid for her to go to the Philippines to see her family and also wired her 85,000 euros while she was there.
Danley's first public comments were read by her lawyer Matthew Lombard.
"I was grateful, but honestly I was worried that first, the unexpected trip home, and then the money, was a way of breaking up with me. It never occurred to me in any way whatsoever that he was planning violence against anyone."
Currently, the motive for the attack remains a mystery.
Earlier several photos from inside the suite on the 32nd floor of the Mandalay Bay Hotel, which Paddock checked into, were released.
In total, 23 weapons were found in the room from where 64-year-old retired accountant fired a barrage of bullets at concert-goers who were attending Sunday's country music festival.
Police in Las Vegas now believe Paddock meticulously planned the concert massacre, acquiring weapons over decades.
Many in the gambling city and the wider US still remain in shock over Sunday night's events, which have prompted calls for reform to US gun laws.